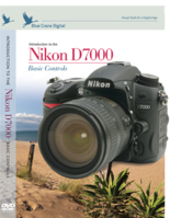 Take great pictures with your Nikon D7000! With this Volume One training of the bluecranedigital.com DVD and about two hours, you'll gain the knowledge and the confidence to create the images you want.
A solid understanding of the D7000's features and controls will help you unleash the camera's potential. Once you learn how the components work together, you'll have all the tools you need to capture the best images under all conditions.
The tutorial topics are arranged in chapters, so you can move at your own pace and return later to individual subjects.
This training DVD is intended for photographers who are moving up to a digital SLR from a point-and-shoot camera. It will also benefit new owners of the D7000 who would like an introduction to the camera and its key controls.
To learn even more about your D7000, check out Volume 2, which covers more advanced topics.
It's also available as an App for your iPad, iPhone or iPod Touch. Learn more.
Format: NTSC, All Regions
Running Time: 111 minutes
Topics Included:
Scene Modes
Shutter-Priority Auto
Aperture-Priority Auto/ depth-of-field
Focus options
Focus Mode – AF-Area Mode combinations
Release modes
Image Sizes
Live View shooting
Focus settings for Live View
Video recording basics
ISO
Metering
White balance
Exposure compensation
Composition
Playback and image review
Flash basics
Custom Settings introduction
Picture Controls
…and much more!