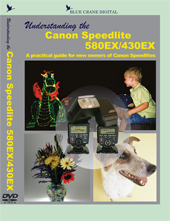 Canon's EX series of speedlites can be the most powerful accessory in your camera bag. This DVD takes you, step by step, through each of the controls.
This training DVD picks up where the manual stops, helping you to integrate flash photography into your image making arsenal.
Your host, professional photographer Tim Mantoani, demonstrates these flash units in a series of real world examples. He explains how to get an emotional response from your pictures by adding or subtracting light.
This DVD keeps extra equipment needs to a minimum. Whether you own a 580EX, 430EX, or both, this presentation gives you a practical approach for approaching all photographic subjects that require a little "portable sunlight".
Whether you use one speedlite or a hundred, Tim's approach will help you create the best photo possible.
Format: NTSC, All Regions
Running Time: 61 minutes
Topics Included:
Flash exposure compensation
Using the flash as a key or fill light
FP or high speed sync operation
Slow sync demystified
Controlling the hardness or softness of the flash
Auto and Manual Zoom control
Flash bracketing
Manual mode and exposure compensation
Wireless operation
A:B and C groups – why they exist and how to use them
Group ratios
Flash exposure lock
Getting the flash off the camera
First and Second Curtain Sync
Manual and Stroboscopic modes
…and much more!